Down With Gargamel!
by Luis Othoniel Rosa
trans. Noel Black
Release date: Aug 2020
Available for preorder / $16
Down with Gargamel! is a futurist tale set in Puerto Rico, New York, and Colorado Springs that unfolds during the transition from peak oil production to a future that's formless, dangerous, and full of possibility. As global capitalism collapses under the weight of a worsening environmental crisis, we encounter the stories of six friends as they move through different forms of consciousness and across galaxies. Stories are presented as a narrative fractal in which the same occurrence is retold at different scales. Conversations abound: on black holes during a Puerto Rican blackout; inside the head of a schizophrenic professor; in an apartment in Brooklyn the very morning the world learns aliens have sent us a message; at a "happy death home" where three comrades and a cat care for twelve voluntarily dying bodies; and finally between intergalactic Smurfs and a nostalgic angel. Rosa's vision is at once absurd and terrifying, specific and idealistic, rooted in the paranoid tradition of J.L. Borges and Phillip K. Dick and inspired by a wide range of radical political movements.
Praise for Down with Gargamel
"In a near future, yuca is exchanged for rum and candle caravans travel from Santurce to Río Piedras. In a far future, in a prophesy of the past, we are drawn to cathedrals that serve as complex ecosystems, underground tunnels connecting narratives, lives that unfold into each other and are suddenly cut short, ending a pattern driven by the proximity of difference. Othoniel has written a novel whose language infectiously spreads like riotous voices filling a once-empty palace."
—Raquel Salas Rivera, author of lo terciario/ the tertiary and while they sleep (under the bed is another country)
–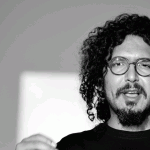 Luis Othoniel Rosa (Puerto Rico, 1985) is the author of the novels Otra vez me alejo (Argentina, 2012) and Caja de fractales (Argentina/Puerto Rico 2017), and of the study Comienzos para una estética anarquista: Borges con Macedonio (Chile, 2016). He studied at the University of Puerto Rico and holds a Ph.D. from Princeton. He teaches Latin American literature at the University of Nebraska. Down with Gargamel! is his first book translated into English.