White Blight
by Athena Farrokhzad
translated by Jennifer Hayashida
Full-length, Hardcover
18 + Shipping*
This vital book exposes the dense tectonics churning beneath migrant dreams. Accusatory, loving, full of grief and sage truths, Athena Farrokhzad's White Blight speaks eloquently to the troubled inheritance of diasporic survival. Through a litany of terse voices, Jennifer Hayashida's sensitive translation describes the nexus of filial obligations and projections under which the narrator sinks from view. The intense beauty of devastation and the poignancy of betrayal emerge with startling frankness: "Your family will never be resurrected like roses after a fire." "I have spent a fortune for your piano lessons / But at my funeral you will refuse to play." These white lines make me ask, what has been bleached out in all of our stories? I read this book, and I remembered my humanity.
— Sueyeun Juliette Lee
It is hard to explain not just the resonance of Athena Farrokhzad's work but of Farrokhzad herself. She is a major figure in Sweden, an outspoken feminist and leftist. She is also a stunning writer. On its surface White Blight is a story of migration, how it shapes and misshapes the familiar. Everyone in this poem has something to say about immigration's trauma, on the impact globalization has on all sorts of intimacy, even as they are so rarely talking to each other. It is also a poem that moves through many registers. At moments it is mannered and metaphoric. At other moments frank and colloquial, intimate too. And Jennifer Hayashida has skillfully translated this complicated work into an ease of English.
—  Juliana Spahr
In White Blight, Athena Farrokhzad evokes a language of feeling that is vivid and deeply familiar. The poem performs as intimately as memory, but with the direct language of confession or accusation. In this world, the family unit nurtures by prolonging disquietude, as there is no forgetting the ruptures of exile and immigration. Still these voices yearn to be proven wrong in a future they cannot predict. The pith and force of the language shines through in Jennifer Hayashida's careful translation, both polished and knife-sharp.
— Wendy S. Walters

Athena Farrokhzad was born in 1983 and lives in Stockholm. She is a poet, literary critic, translator, play wright and teacher of creative writing. After several years of collaborative poetry projects and international literary work she published her first volume of poetry Vitsvit (White Blight) in 2013, at Albert Bonniers förlag. The book circles around the topic of revolution, war, migration and racism, and how these experiences condition the lives of different family members. Vitsvit received several literary awards and was/is being translated to different languages (Danish, Norwegian, Romanian, Spanish, Arabic, etc) and performed as a play at the Swedish Radio theatre and at Unga Klara theatre. Farrokhzad teaches creative writing at Biskops-Arnös författarskola, and has translated writers such as Adrienne Rich, Marguerite Duras, Monique Wittig and Nicole Brossard into Swedish. In 2015, her second volume of poetry, Trado, written together with the Romanian poet Svetlana Carstean, will be published.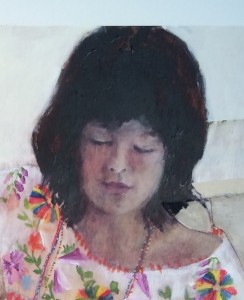 Poet, translator and visual artist Jennifer Hayashida was born in Oakland, CA, and grew up in the suburbs of Stockholm and San Francisco. She received her B.A. in American Studies from the University of California at Berkeley, and completed her M.F.A. in poetry from the Milton Avery Graduate School of the Arts at Bard College. She is the recipient of awards from, among others, the Lower Manhattan Cultural Council, the New York Foundation for the Arts, PEN, the Witter Bynner Poetry Foundation, the Jerome Foundation, and the MacDowell Colony. Recent translation projects include Ida Börjel's Miximum Ca'Canny The Sabotage Manuals you cutta da pay, we cutta da shob (Commune Editions, 2014) and Karl Larsson's Form/Force (Black Square Editions, 2015); previous work includes Fredrik Nyberg's A Different Practice (Ugly Duckling Presse, 2007), and Eva Sjödin's Inner China (Litmus Press, 2005). Her poetry and translations have been published in journals such as The Asian American Literary Review, Salt Hill, Chicago Review, and Circumference, while her art projects have been exhibited in the U.S. and abroad, including the Centre Pompidou, the Flaherty Film Seminar, the New Museum, and the Vera List Center for Art and Politics. She is Director of the Asian American Studies Program at Hunter College, The City University of New York. (Portrait by Julia Shirar)
*For shipping prices to countries other than the US or UK please email info@argosbooks.org.
LINKS & REVIEWS
"A fever that escalates with every blow" by Kaveh Akbar
A Review: White Blight by Samantha Wood
The Shadow of Whiteness by Jonathan Farmer
White Blight Reviewed by Gina Myers
White Blight reviewed in Publishers Weekly
White Blight review at Open Books
White Blight Reviewed by Charlotte Muzzi
NTA Longlist
Janice Worthen recommends at SPD
Athena Farrokhzad reads at IASPIS