Wife
By Caitie Moore
hand-bound chapbook /
sold-out
… the city I've chosen not
to go on loving forever
to which one returns
reminding me she believes the earth is a warm place
and getting warmer, there is no leaving,
there is one place and one life
and so I go to see the dancer who unempties
the air to the shape of his gesture.
The lush, ragged texture of Caitie Moore's lyric responds precisely to the textures of our shared anthropocene: contingent yet committed, harmonious yet disastrous. With a language that is as invested in beauty as it is in ethical inquiry, the poems in Wife reveal the work of a heart that thinks the whole world, and a mind that loves it fiercely.
–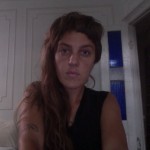 Caitie Moore is a poet, educator and curator. Her work can be found in Strangemachine, Ink Node, Handsome, MuthaFucka, BOMBlog, and in the collection The Racial Imaginary, forthcoming from Fence Books.
space
space
space